Die-Cut Labels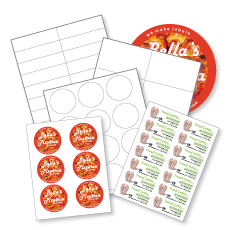 Need to place your business name or message on equipment, mailing pieces or packages? Labels have a multitude of uses particularly for tradespeople, retailers and manufacturers. Die-cut labels are the cheapest way to get a finished look, in full-colour.
Standard Prices
8.5 x 11 Sheet Labels on Standard Stock Options
$1.00/page
8.5 x 11 Sheet Labels on Vinyl
$2.50/page
Die cut labels are printed on pre cut sheets, usually 8.5 x 11 with multiple labels per sheet and a paper sub-strate. This includes squares, rectangles and circles. Simply peel and stick. The number of labels per sheet differs with the size.
Colour is permanent and waterproof/smudgeproof. Paper-backed labels are suitable for packaged products includes jars and refrigerated items.
Label printing commonly requires additional setup time for non-standard sizes. Minimum job charge $25.00. Minimum quantity is 10 sheets.
Paper/Finish:  Paper, Vinyl, Transparent, Frosty-clear. Hi-tac (permanent), Lo-tac (removable) and Cling
Colour: 4-Colour or Black
Options: Die-cut (circular), Rounded Corners, Square-cut, CD/DVD format,
Quantities: 10 to 1,000
Sizes available include:
1.375 x 4 | 1.5 x 4 | 1.75 x 2 | 2 x 4.25 | 2.75 x 4.25 | 3.5 x 4.25 | 1.5 x 4.25 | 2 x 2.688 | 1.5 x 2.25 | 3.66 x 8.5 | 5.5 x 8.5 | 8.5 x 11  and sizes in between
Circular 1″, 1.5″, 1.9″, 2.75″, 3″
Turnaround: 2-3 Business Days
Accepted File Type: PDF, JPG, GIF, PNG