Menus
A well designed menu is essential and can have a direct impact on sales. Does your current menu highlight your specialties, suit your clientele and sell your image? Take as much care in presenting what you have to offer as you do in preparing it.
We offer menus in a variety of formats for every type of restaurant.Here are some of the most popular.
Roadhouse – Panels
Usually printed in colour on heavyweight stock and laminated for extra durability, these double-sided large menus pack a lot in a small space. Panels can also be inserted in acetate protectors to create a cafe style of up to 8 pages.
Here are samples of a typical roadhouse style menu.
Booklet
Booklet style menus can be created in two standard ways. The first is using a large sheet size such as 12 x 18″ and folding it in half. This creates 4-panels which can then be laminated for protection. The maximum page size using this method is 9 x 12″.
Alternatively, a booklet can be created by printing separate sheets, up to 11 x 17″ and laminating the sheets together followed with a crease and fold on the lamination material separating the two panels. This results in a 4-panel menu with a larger maximum page size. This would be suitable for a roadhouse-style menu with multiple pages.
Insert Sheets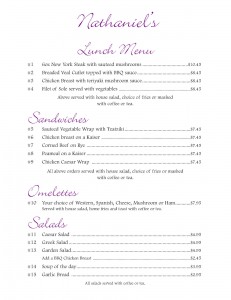 Insert sheets are designed to fit in menu holders and are printed on a variety of paper types, from classic parchment to hot new colours. These menus are commonly text-only with slight graphic touches and week-suited to fine dining venues. Printing is commonly black only or with a single accent colour. Due to the simple nature of these menus, the typefaces used are especially important.