About Us
Qwik Print is a commercial printer based in Owen Sound, Ontario that services business clients in Grey – Bruce counties and customers outside of this region. We are able to ship completed work to customers across Canada and the United States. We offer both digital and offset printing of a wide variety of products. Our slogan is:

Qwik Printing
The Qwik Print slogan "same day – next day – two day" describes the speed at which we work. Short-run jobs of 1,000 items or less are usually completed within 1-2 business days from time of submission. This includes 4-colour work such as brochures, sell sheets, posters, postcards and rack cards. Other items and large quantity orders are generated completed within 4-5 days.
Digital Printing

QwikPrint operates multiple Xerox digital presses which offer in-line finishing option to simplify folding, collating and stitching. These machines feature a unique square-folder that makes your job look like a bound book. It is great for professional presentations, manuals and sales materials.
Our standard 600 – 1200 dpi digital presses offer superb results on a variety stock. We can emulate a variety of press standards and can create custom colour profiles for your specific job. Grayscale printing is wide gamut for photo-quality black output.
Digital printing offers important benefits that we can help you take advantage of:
Lower printing costs
Reduced waste on unused materials
Less stringent artwork requirements
Environmentally-friendly production
Offset Printing
We offer offset printing on 4 and 6 colour presses for larger jobs (2000 units +). Although the initial prepress production requires more time and has a higher initial cost, this is offset by the significantly lower cost per unit on larger jobs. The source file requirements for jobs being run on offset are much higher than digital and commonly require us to prepare submitted artwork. Our prepress department has many years experience and can resolve any issues that arise.
Lower per unit cost on large quantities
Wide variety of paper types and weights
Post-press coatings – AQ, UV
Large Format Laser Printing
Qwik Print offers large format laser printing for the production of blueprints & technical drawings, posters and signs in grayscale or full-colour. Printing is on a variety of paper materials including a semi-waterproof, latex-infused material suitable for use in damp (not wet) locations.
Sizes up to 36″ width x 120″ length
Lower per unit cost than inkjet technologies
Faster completion times
Mounting on foam-core up to 24 x 36″
Signage
We offer a variety of small to medium format signage options printed on coroplast, metal and other substrates.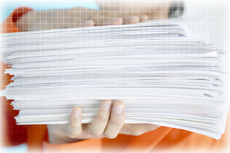 Qwik Print offer a full-service photocopy service with one hour or next-day completion. We can photocopy originals up to 11.5 x 17.5 inches and offer enlargements up to 500% and reductions to as small as 20%. Our multiply option photocopies originals to create multiples images on each page. See our specifications page for exact sizes.
Photocopies can printed on a variety of paper types and colours from standard 20LB bond to 12Pt (300 GSM) card stock. We offer photocopy prices as low as 9¢ per page for black and colour copies as low as 25¢ for standard letter-size page. Higher prices apply to larger sizes and paper types.
Photocopying can be a boring process. Our full-serve photocopy service does the work for you. All prices are for full service copying.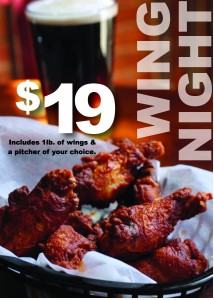 Qwik Print prints restaurant menus in many formats and styles, to a maximum of 12 x 18 inches to small mini-menu of 4 x 5 inches. We offer a complete restaurant menu design service from initial concept to finished product whether its roadhouse or fine dining. We also carry a variety of attractive restaurant menu holders from such suppliers as Divine. Table-talkers, restaurant advertising materials and signage are available in numerous standard formats or custom-created to your requirements.
Qwik Print prints book and manuals in several formats and offers multiple binding options including: perfect binding, Cerlox binding, Wire D binding, Spiral binding, Stapled and Square-fold binding.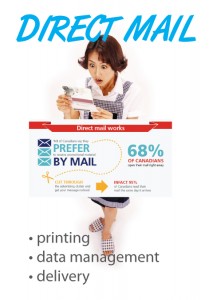 Qwik Print offers direct mail services in Owen Sound, ON, Grey & Bruce counties and any other community in Canada. We handle each aspect from design and production of your direct mail piece to final delivery in to the hands of your customer or prospect. Our mailing list management service can arrange the purchase of bulk mailing lists or consolidation of mailing data from multiple sources and file formats. This includes data scrubbing and categorization for targeted mailings.
Qwik Print uses the unaddressed mail service of Canada Post to reach specific communities, regions and specific street locations. Direct mail is one of the most effective ways to contact individuals and businesses.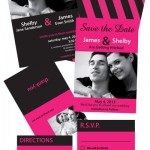 Qwik Print is a commercial printer in Owen Sound, ON that prints a variety of save-the-date cards, wedding invitations and other event-related items. Our graphic design service can make your wedding invitations something to be remembered. Got your own design? Create it according to our standard design requirements and we'l print it for you.
Got an upcoming event that you want to announce in a special way?
Qwik Print offers the fastest graphic design service in Owen Sound, ON with a rush 24-hour service. Graphic design commonly takes days or weeks and can cost hundreds of dollars. Using our custom graphic design service can cut that time into a few hours and reduce the cost dramatically.
Binding & Finishing
Qwik Print offers multiple ways to bind your documents, reports, books and manuals. Binding can make your report look more professional as well as hold those loose pages together. We currently offer the following binding methods:
Wire-D and Wire-O
Cerlox
Spiral
Perfect (glue)
Stitched (staple)
Square-fold stitched
We can bind up to 200 pages in a single book using Cerlox, Wire-D and Perfect binding.
File Submission & Proofing
Files can be submitted as an attachment to an email message or by using one of the popular file transfer services such as WeTransfer, Drop Box and others. Soft-proofing usually occurs within 1-2 hours. Files should be in PDF format. The exceptions are individual photos (JPG) and individual graphics such as logos (PNG, EPS). To get a complete description read our help page.
Hard (paper) proofs are available, usually within one day. Depending on the job a service fee may apply.
Delivery
Qwik Print in Owen Sound, ON offers next-day delivery to most communities in Grey & Bruce counties including Wiarton, Port Elgin, Southampton, Markdale & Flesherton, Meaford, Thornbury and Collingwood Ontario. Local delivery of printing in Owen Sound, Ontario is free on orders of $100 or more. Next-day delivery is available throughout Grey-Bruce for a flat rate $10- $15.