Posters – Small Format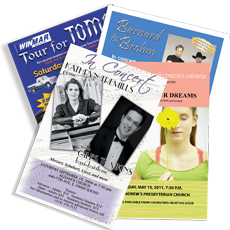 Posters are a great way to advertise an event or performance. Eye-catching design in a high-traffic area can really drive interest. Special discounts are available for non-profit organizations.
Standard Prices
11x17 - No-Bleed 25+ 59¢ Each
12x18 - No-Bleed 25+ 69¢ Each
Small format posters are almost any size to a maximum 13 x 19″. They can be printed on a variety of materials: standard paper, coated and card stock. Small quantities, < 500 can be completed within 24 hours.
Paper/Finish: 80-100lb, 8-12pt card stock, coloured paper
Colour: 4-Colour, Gray-scale or Black
Options: Lamination
Quantities: 1 to 10,000
Sizes available include: 5.5″x8.5″, 8″x5″, 6″x9″, 5″x7″, 8.5″x11″, 8.5″x14″, 11″x17″, 12″x18″, 13″x19″
Finishing: Trim to size.
Turnaround: 1-5 Business Days
Accepted File Type: PDF, Publisher, Word, In Design, Illustrator