Books & Manuals
Qwik Print specializes in the design and printing of books & manuals in a variety of formats.
training materials
art & photography
music scores
colouring books
comics
paperbacks
technical documents & product manuals
Colour or Black
We print in high-resolution colour or full-gamut greyscale. Our digital prepress operations automatically adjust for colour and black pages, reducing the overall cost of your book.
Automated Assembly & Impositioning
No need to spend hours impositioning the pages of your book. Our automated production tolls will do it for you. Simply provide the pages at size in logical order and we'll structure your book at no additional cost.
Small Quantity Production
Our automated processes makes it cost-effective to print small quantities and simply reorder more when you need them. This reduces your initial expense and allows for revisions or updates to be made – something you don't want to do if you have printed hundreds or thousands.
Typical quantities: 25 – 500
Binding Options
Square Fold Stitched Books
This automated binding system produces books as small as 4 x 5" up to 9 x 12" in a one-step process that assembles the entire book, folds, stiches and edge-trims the final product. It is suitable for books up to 72 pages.
The square-fold feature results in a square spine that looks more professional and is much more durable. Two-point stapling is almost invisible on dark covers. Cover weights can be up to 12pt – 285gsm.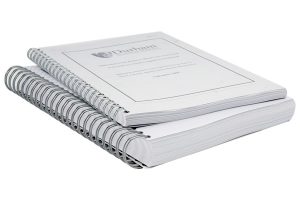 Square D and Cerlox Binding
This binding process is suitable for books up to 150 pages and even larger for Cerlox. Pages are punched and the binding attached manually. This is especially good for manuals or books that you want to lay "flat".
The finishing features on our printer allow for automated punching of pages in either of these formats for standard letter-size pages.
Cover weights can be up to 12pt – 285gsm.
Stitched Books
Folded books up to 100 pages can be stitched manually.
Cover weights can be up to 12pt – 285gsm.
Design Services
Clear, concise, communication is essential, especially in training materials and technical documents. Our design department has years of experience developing training manuals, software documentation and product operation guides. Projects are priced individually and are quoted in advance.