Roll Labels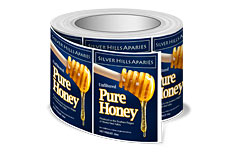 High-quality labels can define your product and increase off-shelf sales. Food products now require full nutritional information.
Roll labels make it easy to apply branding to products and necessary for products sold commercially. We provide both attention-getting design and printing on paper and vinyl substrates. Labels are on rolls for easy dispensing.

Paper/Finish:  Paper, White Vinyl, Clear Vinyl. (Paper not suitable for outdoor use.)
Colour: 4-Colour or Black
Options: Wind position Top, Bottom, Left or Right.
Quantities: 50 to 5,000 (larger quantities available)
Finished size available: Rectangular labels from 1″ x 2″ to 3.5″ x 4″. Oval labels from 1″ x 2″ to 3.5″ x 4″. Circular labels from 1″ to 4″ diameter. Square labels from 1″ x 1″ to 4″ x 4″.
Turnaround: 4-5 Business Days
Accepted File Type: PDF, EPS