Folded Menu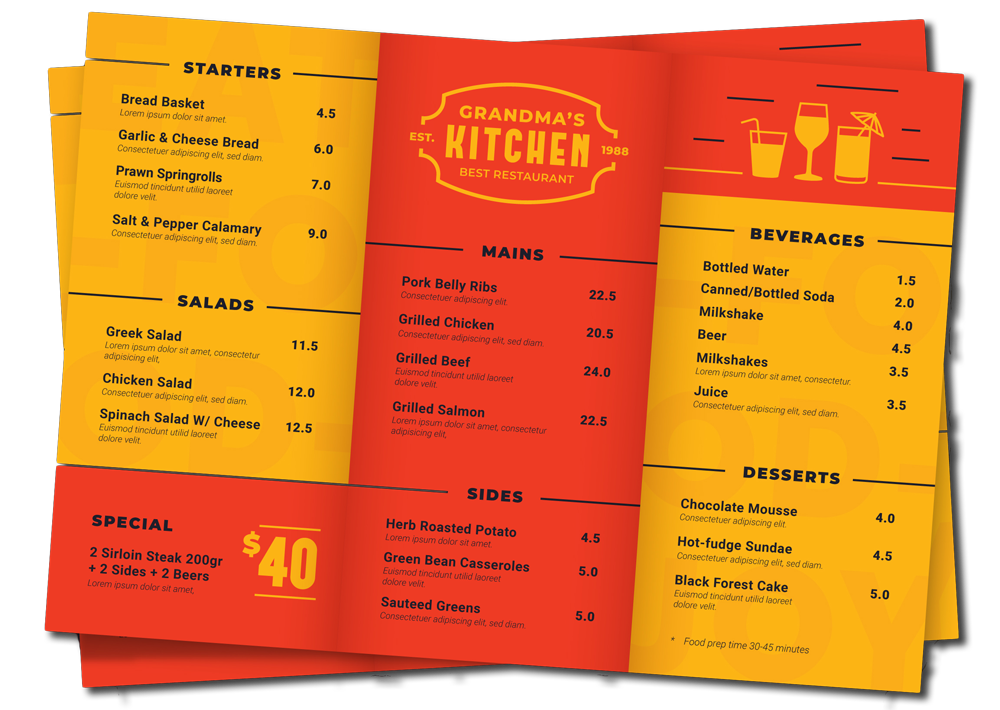 A well designed menu is essential for your restaurant and can have a direct impact on sales. Use it to highlight your specialties, please customers and promote your image. Folded menus come in a variety of styles and are an excellent choice when space at the table is important.
Folded menus are always double-sided in 2, 3 or 4 panels, dependent on the desired final size and the menu content. The standard sizes are 17 x 11" or 18 x 12" offering up to 4 letter-size pages of content. The front page is commonly reserved for branding containing restaurant name, location, etc. Menus are printed on heavy-weight 12pt or heavier stock and scored for easing folding. Lamination, either gloss or silk will help them stand up to heavy use.
Paper/Finish:  10, 12 or 14pt stock and specialty papers.
Colour: 4-Colour or Black
Options: 2, 3 or 4-panel folds
Quantities: 25 to 1000
Finished size available: 8.5 x11, 8.5 x 14, 11 x 17, 12 x 18, 25.5 x 11 and custom
Finishing Options: Lamination, rounded corners
Turnaround: 2-3 days (12-24 hrs at slightly higher prices)
Accepted File Type: PDF