Menu Cards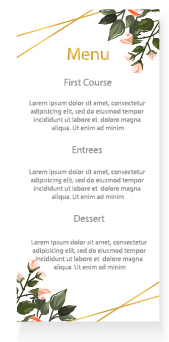 Menu cards are an easy way to tell guests their meal options and prepare them for the feast to follow.
Menu cards can be sign-sided (flat) or tent (folded) and normally limited to text. Pricing varies with paper type. Cards can be custom designed and printed with a bleed (to edge) or without a bleed.
Paper/Finish: Printed on 10pt card stock, matte of gloss and available in a variety of paper types and colours.
Colour: 4-Colour or Photo-Black.
Options: Single-sided or double-sided. With or without bleed. Variety of paper colours and finishes. Many typeface options.
Envelopes: Price includes standard envelopes (white only). Matching/contrasting envelopes available in a variety of colours.
Quantities: 25 to 1,ooo
Finished size available: 7″x5″ Landscape, 5″x7″ Portrait, Variety of other sizes.
Finishing: N/A
Turnaround: 4-5 Business Days
Accepted File Type: PDF, MS-Publisher, Word