Take-out Menu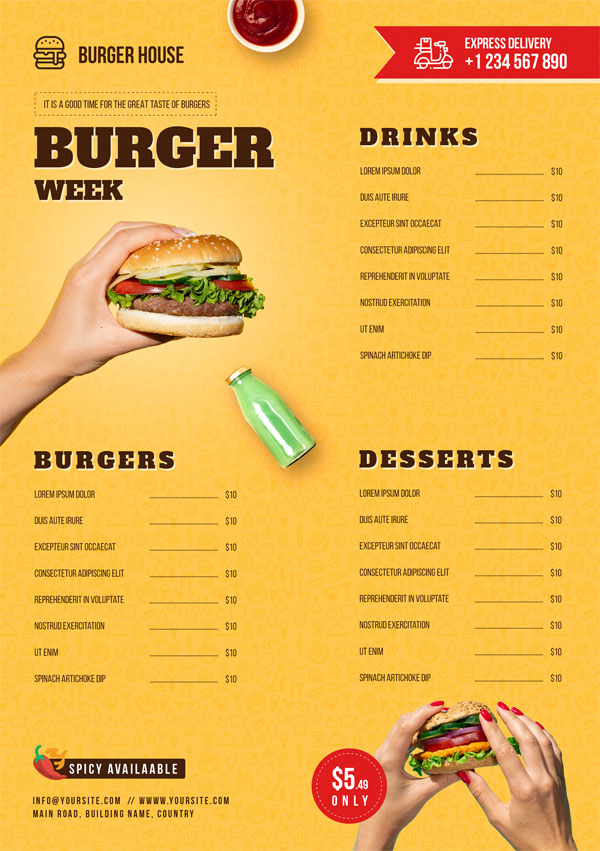 Take-out menus can be handed out at the counter, used as a direct mail piece or distributed at tourism and information kiosks. They offer a cheap and easy way to get your name in front of customers by showing them what's on the menu. It's not necessary to include everything, just the items you know are most popular and likely to encourage a visit.
Take-out menus are printed on 80 – 100lb coated or uncoated stock. They can be 4-colour, black only or 1-2 colour. Specialty options include colour stock, a variety of textures and paper grain. For economy printing, we provide hi-resolution gray-scale printing. Menus are typically folded in 3-panels – just like a brochure.
Menus can be rush printed in 12-24 hours at slightly higher prices.
Paper/Finish: 80 or 100lb Gloss or Matte Stock. Also available on 100% Recycle Paper 80lb Text Stock, specialty papers and coloured stock.
Colour: 4-colour,1-2 colour or Black
Options: Single-sided or double-sided, bleed or no-bleed
Quantities: 25 to 100,000
Finished size available (open): 8.5 x11, 8.5 x 14, 11 x 17, 12 x18″ and sizes in between
Finishing: Folding – roll/tri, half, Z-fold, gate

Turnaround: 4-5 Business Days
Accepted File Type: PDF, MS-Publisher, Word & Others