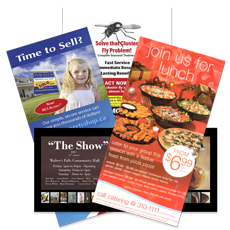 Rack cards have many uses. The most common sizes are 3.5" x 8.5" and 4" x 9". The long format makes them ideal for use in display units "racks" which is what they got there name from. Rack cards can be used as direct mailers, with or without names embedded and fit in a standard business size envelope for addressed mailings or inclusion with a cover letter.
Standard Prices
100 - $79, 250 - $115, 500 - $185, 1000 - $245
Rack Cards
Rack cards are a highly versatile marketing tool and have many applications. We produce them in the three most common sizes. For other dimensions see postcards. Rack cards can have both a portrait or landscape layout.
Paper/Finish: 14pt card stock with AQ, UV or Matte Finish, (Optional UV 1 side only) and 13 pt 100% recycled stock – no coating
Colour: 4-Colour or Black
Options: Single-sided or double-sided
Quantities: 100 to 100,000
Sizes available include:  9″ x 4″, 8.5″ x 3.66″, 8.5″ x 3.5″
Finishing: Cut to size and box.
Turnaround: 4-5 Business Days
Accepted File Type: PDF