Tent Cards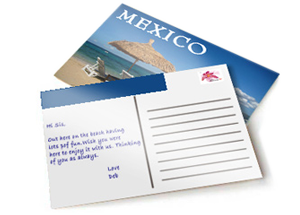 Curabitur imperdiet porta nisi vitae fringilla. Pellentesque rutrum congue lorem, sit amet tempus nibh sagittis quis.
Postcards are an economical way to get your message in the hands of prospects and clients. We offer a variety of sizes to suit direct mail, rack card displays and letter inserts.
Paper/Finish:  14pt card stock with AQ, UV or Matte Finish, (Optional UV 1 side only) and 13 pt 100% recycled stock – no coating
Colour: 4-Colour or Black
Options: Single-sided or double-sided
Quantites: 100 to 100,000

Sizes available include:  5.5″x8.5″, 4.25″x2.75″, 5.5″x 2.125″, 2 "x 8″, 4.25″x3.66″, 3″x4″, 4.25″x5.5″, 4″x6″, 4″x4″, 4.25″x6″, 8.5″x2.75″, 8″x5″, 6″x9″,4.25″x11″, 5″x7″, 4″x9″, 8.5″x3.66″, 8.5″x3.5″, 8.5″x6″, 8.5″x11″, 6″x11″, 11″x17",

Finishing: Cut to size and box.

Turnaround: 4-5 Business Days
Accepted File Type: PDF