Layout Guides
The following guides have been provided to assist you in laying out your own artwork. To use these guides, which are in PDF format, download the file and open it in Adobe Illustrator or similar editing program. If you do not have this software, use the PDF file as a reference when you set up your own file.
There are standards that we expect in all files and guidelines for good design.
For files with a bleed (where artwork runs off the edge of the page) allow a .125″ bleed zone on all edges. (See the layout guides for a sample.)
Each job (including multiple paged projects) must be submitted as a single PDF file.
Ensure that all pages are the same size.
Files must be submitted with proper orientation, especially important in double-sided documents and folded pieces such as brochures.
Include all important artwork within the Safety Line  – approximately .185″ from the trimmed edge.
It is best to avoid using borders in your design. If a border is too close to the trim, the trim may be slightly off-center.
Ensure that your PDF is high res and that all graphics/photos are converted to CMYK at 300 DPI.
Do not include crop marks, registration or additional file information in the margins.
Fonts should be outlined or embedded in the document.
PDF is the standard file type with can be created from Illustrator, InDesign, Word and Publisher.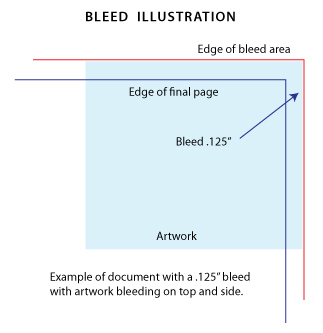 Templates
11 x 8.5″ Roll-Fold Brochure – Outside
11 x 8.5″ Roll-Fold Brochure – Inside
11 x 8.5″ Half-Fold Brochure – Outside
11 x 8.5″ Half-Fold Brochure – Inside
11 x 8.5″ Z-Fold Brochure – Front & Back
14 x 8.5″ Double Parallel Fold Brochure – Front & Back
14 x 8.5″ Accordion Fold Brochure – Front & Back